Indoor Wicker & Rattan Coffee Tables, Cocktail Tables & End Tables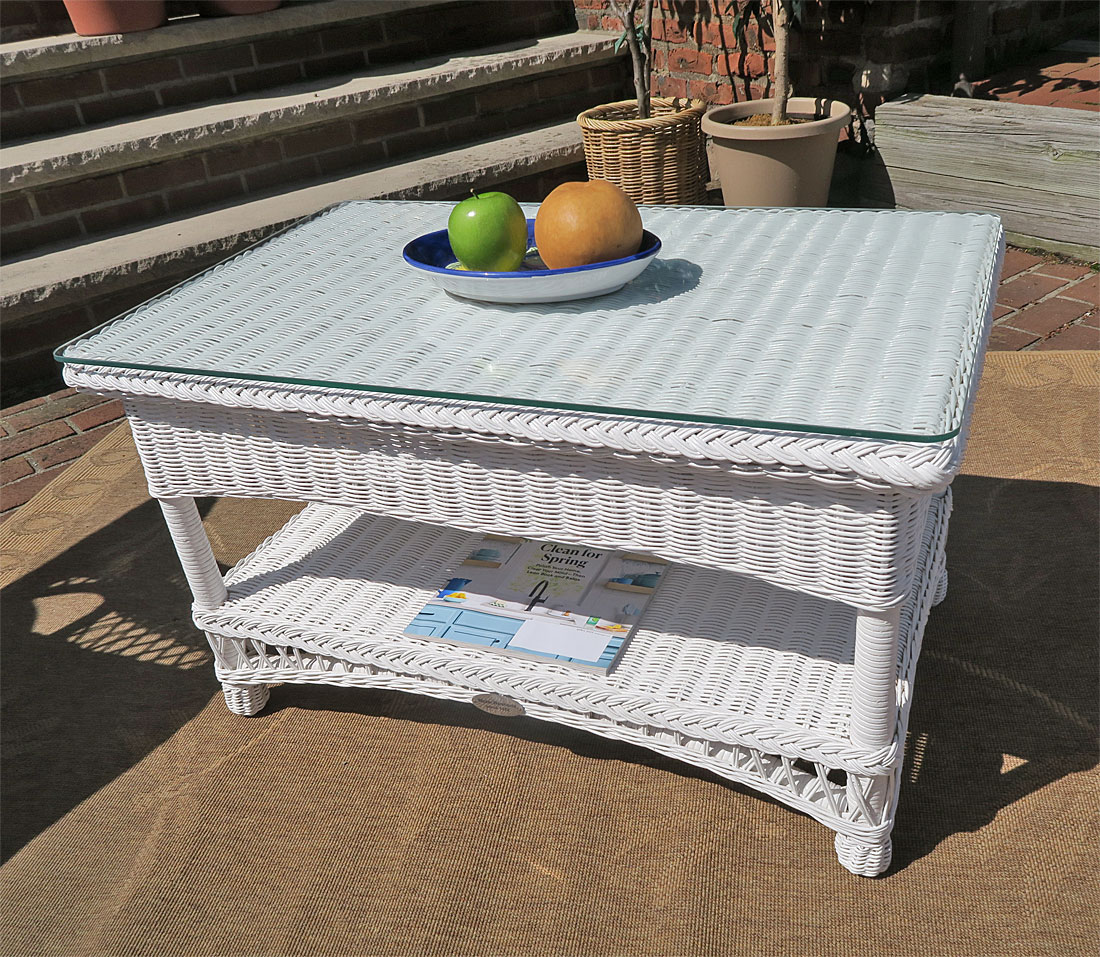 Scroll down to look at all of these beautiful Wicker Coffee Tables & Wicker End Tables. Lots of styles, lots of colors and lots of quality.
Construction..The rattan poles we use to make the coffee table and end table frames are thicker & stronger. The "spaghetti" size wicker we weave over our wicker table frames is also thicker and skillfully woven.
Glass tops create a flat surface & prevent dust from gathering in the wicker weave on the table tops.
They also protect the wicker coffee table tops when you place things on them.You will love our tables as there will be a size & style just for you.
NO Assembly Required.Each & every table is 100% individually handmade at the factory. When glass is included it is packed on top of the tables & enjoys the support of the table for safe shipping.
Where to use them..these are rattan framed natural wicker tables that must be used indoors or in very well covered outdoor areas. They will get ruined in the rain. Our customers also use the smaller tables as Plant Stands.
We offer Free Curbside Shipping to most locations in the 48 states. Most tables ship via Fed Ex. The larger tables that exceed Fed Ex size limits are shipped via 18 Wheeler Trucks that must be able to drive onto & away from your delivery address. Trucking deliveries are CURBSIDE. You are welcome to ask us more about shipping. There are variables depending on sizes & quantities.
Please know we only ship glass tops with the furniture. Not Alone.
Special Price

$249.95

Regular Price

$256.00

As low as

$149.95

Regular Price

$169.00

As low as

$299.95

Regular Price

$329.00

As low as

$299.95

Regular Price

$329.00

As low as

$229.95

Regular Price

$249.00

As low as

$299.95

Regular Price

$339.00

As low as

$249.95

Regular Price

$279.00

As low as

$299.95

Regular Price

$329.00

As low as

$249.95

Regular Price

$279.00

As low as

$299.95

Regular Price

$329.00

As low as

$249.95

Regular Price

$279.00

As low as

$169.95

Regular Price

$189.00

As low as

$149.95

Regular Price

$169.00

As low as

$149.95

Regular Price

$169.00

As low as

$199.95

Regular Price

$219.95

Special Price

$269.95

Regular Price

$299.00

Special Price

$349.95

Regular Price

$399.00

As low as

$179.95

Regular Price

$199.95

As low as

$249.95

Regular Price

$299.95

As low as

$249.95

Regular Price

$299.95

As low as

$299.95

Regular Price

$349.95

As low as

$199.95

Regular Price

$219.95

As low as

$225.00

Regular Price

$249.95

As low as

$559.00

Regular Price

$629.00

As low as

$379.00

Regular Price

$419.00

As low as

$699.00

Regular Price

$779.00

As low as

$479.95

Regular Price

$529.00

Special Price

$629.00

Regular Price

$699.00

Special Price

$499.00

Regular Price

$559.00

Special Price

$699.00

Regular Price

$779.00

Special Price

$499.00

Regular Price

$559.00

As low as

$629.00

Regular Price

$699.00

As low as

$459.00

Regular Price

$510.00

As low as

$699.00

Regular Price

$779.00

As low as

$549.00

Regular Price

$599.00

As low as

$729.00

Regular Price

$799.00

As low as

$499.00

Regular Price

$559.00

As low as

$629.00

Regular Price

$699.00

As low as

$499.00

Regular Price

$559.00

As low as

$399.00

Regular Price

$449.00

As low as

$549.00

Regular Price

$659.00

As low as

$649.95

Regular Price

$729.00

Special Price

$629.00

Regular Price

$699.00

As low as

$479.95

Regular Price

$529.00

Special Price

$499.00

Regular Price

$549.00

Special Price

$599.00

Regular Price

$669.00

Special Price

$499.00

Regular Price

$559.00

As low as

$469.00

Regular Price

$529.00

As low as

$649.00

Regular Price

$729.00

Special Price

$599.00

Regular Price

$669.00

Special Price

$399.00

Regular Price

$449.00

As low as

$679.00

Regular Price

$759.00

As low as

$479.00

Regular Price

$529.00

As low as

$699.00

Regular Price

$779.00

Special Price

$679.00

Regular Price

$759.00

Special Price

$449.00

Regular Price

$499.00

Special Price

$529.00

Regular Price

$589.00

Special Price

$349.00

Regular Price

$389.00

As low as

$599.00

Regular Price

$679.00

As low as

$649.00

Regular Price

$719.00

As low as

$629.00

Regular Price

$699.00

As low as

$799.00

Regular Price

$899.00

As low as

$599.00

Regular Price

$659.00

As low as

$879.00

Regular Price

$979.00

As low as

$849.00

Regular Price

$949.00

As low as

$1,069.00

Regular Price

$1,179.00

As low as

$859.00

Regular Price

$949.00

As low as

$1,059.00

Regular Price

$1,179.00

As low as

$699.00

Regular Price

$779.00

As low as

$879.00

Regular Price

$979.00

As low as

$679.00

Regular Price

$759.00

As low as

$829.00

Regular Price

$919.00

As low as

$579.00

Regular Price

$649.00

As low as

$639.00

Regular Price

$710.00

As low as

$699.00

Regular Price

$779.00

As low as

$399.00

Regular Price

$449.00

As low as

$549.00

Regular Price

$599.00

As low as

$759.00

Regular Price

$849.00