Outdoor Wicker Glider Chairs and Love Seats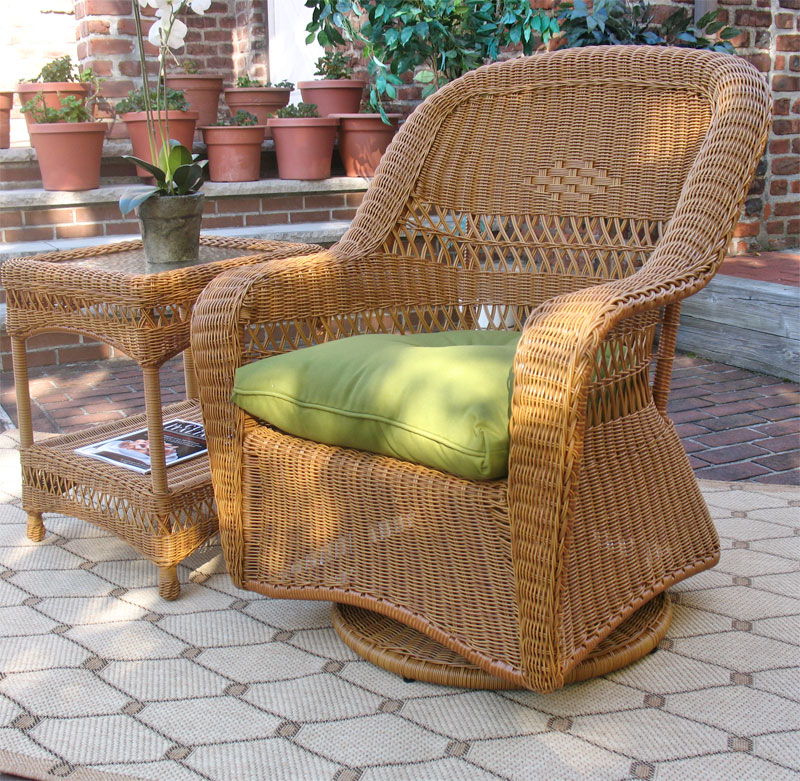 Scroll down to view fabulous Resin Wicker Swivel Glider Chairs. Our Bel Aire Resin Wicker Swivel Glider Chairs are great for your outdoor patio, deck or any place else. They are made of heavy gauge aluminum come packed one to a box AND all in one piece. NO ASSEMBLY REQUIRED. They have a 360 degree swivel and glide front to back. Select from about 40 Spun Polyester Fabrics all at the same price & lots of different Sunbrella Fabrics. We reccommend having us make your cushons from Sunbrella Fabrics if you are using the chairs in outdoor areas. Sunbrella Fabrics cost a little more now, but we actually feel they become less expensive over time.
Sunbrella Fabrics---each & every thread of fabrifc is placed in a "dyed solution process" BEFORE they are woven into yards. This coats each thread of fabric and makes it very fade, stain & mildew resistant. Any fabric mill that does this type of process is offering you a really good quality fabric.
We offer these glider chairs in 5 colors & there are plenty of tables available to service them. The frames on these glider chairs are made to house seat cushions only. If you place a back cushion on them you will sit too far foward. We also offer a beautiful selection of full sized swivel glider chairs that house both seat & back cushions.
Unerstanding costs..Glider Chairs cost more to make than regular chairs or rockers. To make a glider chair like these first you must make the heavy gauge aluminum frame for the seat area. Then you must make the round pedestal that you see under the seat area. The frames then have to be powder coated (painted & baked) the same color that the exterior synthetic wicker will be. The baking makes them very chip resistant. Then the weavers do their job. To allow the chair to swivel & glide back to front a powder coated steel mechanism must be attached under the seat & to the round pedestal. The round pedestal has to be drilled out on the very bottom & 5 levelers are put in. The levelers can be adjusted if your floor area is not perfectly flat. Summary...there are more parts and more work to make chairs that swivel & glide. Also--look at the chair sides. We solid weave the sides all the way down so the mechanism is not shown. These are quality glider chairs made the right way.
Synthetic Wicker...is a man made product. There are lots of different qualities. We buy & use HDPE--high density polyethylene. You can google this to read about it. The synthetic wicker is then hand woven & hand tied over the frames. You must keep your weavers. Good weavers know how to hide the begginnings & ends of the weave. There has to be a begginning & an end, but we do not want to see them sticking out. There is more to know like the quality of the fabrics and where they are made, but we think you get the idea. Our cushions are American made. We have the same upholsterer for over 25 years.
We offer FREE CURBSIDE Delivery to Most Locations. Our deliveries are made in 18 wheeler trucks that must be able to drive onto & away from your delivery address.